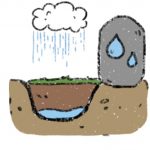 In HYDRO3 an innovative rainwater harvesting system will be implemented in a remote area in Mykonos, where house roofs are not available.
It will consist of a sub-surface rainwater collection system. Harvested water will be used to water 0.4 ha of oregano. The cultivation of oregano was selected as it can grow on the island and requires small amounts of water.
Nutrients will be provided by composting of green material available on-site.
---
Level of operation: Private Business
Types of water treatment: Rain Water
By products: Herbs, essential oils, Reclaimed water for irrigation
---