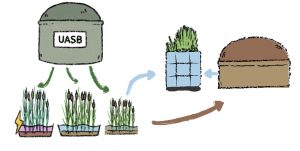 HYDRO1 consists of a sewage treatment system applied in decentralised areas with high seasonal loads.
The demo site will treat the domestic wastewater of Antissa village wastewater treatment plant (WWTP) located at the island of Lesvos, Greece. 
HYDRO1 combines anaerobic processes with constructed wetlands and disinfection to treat domestic wastewater as a completely circular solution where water, nutrias and the produced sludge are going to be reused. 
Furthermore, the anaerobic process recover energy in the form of biogas which will then be upgraded to produce high purity methane used to fuel local vehicles. 
---
Level of operation: Municipality – Community
Types of water treatment: Grey Water
By products: Fertilisers, Biogas, Reclaimed water for irrigation
---