HYDROUSA is in its 4th year of operation with full-scale applied innovations of regenerative solutions in three Mediterranean islands, Tinos – Mykonos – Lesvos. An awarded Horizon 2020 Research and Innovation project developing nature-based technological solutions in the context of circular economy.
The project in Summer 2022 will be manifested with citizens' activities for one month in each island. The program will include an interactive Info Point, a Summer school, an Artistic Residency and an Open Day for the wide public.
#OfficeOfHydrocommons), an innovative curatorial model developed as part of #Occupy Atopos 2023 Program that is focused on water.
The Artist Residencies are curated in collaboration with the curator Eleni Riga and the Office of Hydrocommons, an innovative curatorial model for open and ongoing research on hydrocommons developed as part of #OccupyAtopos by ATOPOS cvc and the artist director Vassilis Zidianakis. Link:  https://atopos.gr/occupyatopos-eleniriga-officeofhydrocommons/
In this framework, Despina Charitonidi (b.1991, Athens) a sculptor and performer will be our first guest artist for Tinos Island. Accompanied by four dancers she will present a fragment of her  upcoming performance and first presentation in Greece  at Atopos cvc " , To fall with  grace". This work explores the unseen processes and effects of human interventions in water related environments. More specifically, it focuses on the militarization and gentrification of oceans, the noise pollution and the effects on human and sea mammals. The project evolves and is linked to HYDROUSA solutions and findings. "To fall with grace" reflects on the value of water, and in a similar way HYDROUSA brings nature based solutions to address water scarcity and dryness in the same way "To fall with grace"  depicts how in a dry environment the beings act out of place – completely disoriented.
The artwork will be displayed during the Open day at Tinos Ecolodge at Steni Village on the 23rd of June, */Link to registration/*, on the 24th of June at the public square next to the Cultural Foundation of Tinos for the local community.
Art is a powerful means, and the objective of this residency is to foster community building, creatively communicate the value of innovative and circular 'uses' of water bodies. The Artist Performances will be an interactive and creative experience to inspire and transmit feelings or ideas.
About HYDROUSA 
HYDROUSA is a Horizon 2020 Innovation Action project funded by the European Union and is coordinated by the Sanitary Engineering Laboratory of the National Technical University of Athens (NTUA).
HYDROUSA revolutionises the water value chain in Mediterranean regions by applying innovative, nature-based solutions for water and wastewater management, which close the water loops and boost the agricultural and energy profile of these areas by recovering water, energy and high added value products.
The HYDROUSA concept is implemented in six-full scale demonstration sites (HYDROs) in three Mediterranean Islands (Lesvos, Mykonos, Tinos).
The Challenge
Water management in Mediterranean islands is currently fragmented and there are several barriers, which need to be overcome in order to close water loops and contribute to the environmental and economic development of these regions.
Our Vision
HYDROUSA goes beyond the current water and wastewater management practices reimagining a water resilient economy, mitigating climate change and reforming the agro-food system. HYDROUSA not only develops and demonstrates innovative water services but revolutionizes the water value chains in Mediterranean areas from water use up to sewage treatment and reuse. Our mission is to disseminate sustainability principles and circular economy values through interactive seminars and activities.
About Tinos 
Tinos is in the heart of the Cyclades, a picturesque island which is windy and water scarce.
Water is one of the most fundamental sources for development and prosperity. 90% of it comes from desalination plants to cover the water needs of Chora. The economy of Tinos significantly depends on tourism activity. However, this can entail impediments and challenges for the resources management as there are high fluctuations in population during the summer season.
For the reasons above, the innovative technologies demonstrated in HYDRO 5 & HYDRO 6 aim to address and solve linear approaches of energy use, water management and water treatment systems.
HYDRO 5 – HYDRO 6
HYDRO 5 – Agios Fokas
This is a nature-inspired, low-cost, solar driven desalination system based on the principles of evaporation and condensation. Seawater and brine from existing desalination plants are treated in the Mangrove Still System to produce freshwater and salt. Read more here
HYDRO 6 – Tinos Ecolodge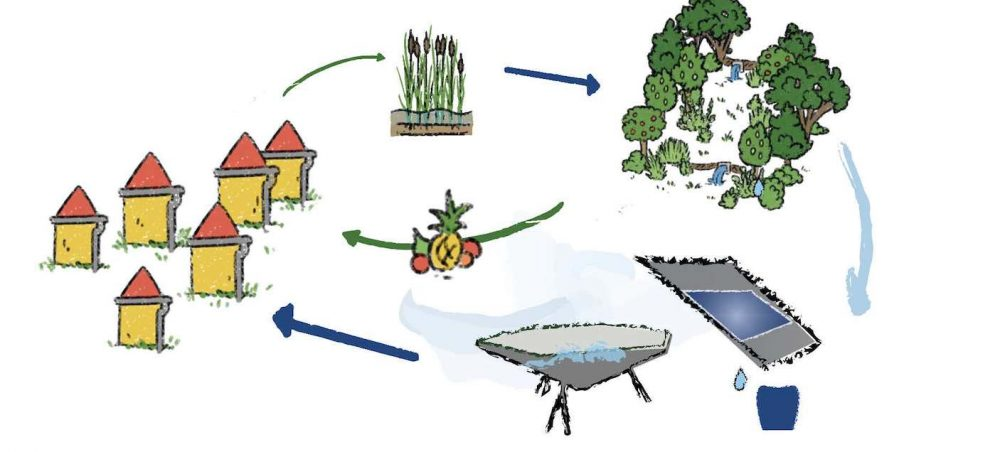 An innovative combination of water management cycle coupling agricultural and touristic activities. It is implemented within Tinos Ecolodge and aims to demonstrate how a small touristic unit can be self-sufficient and sustainable in using its resources efficiently.
Read More here